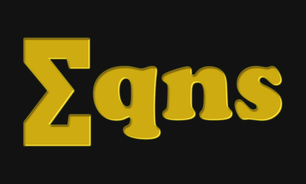 EQNS is a New York City based company that strives to advance education in the sciences by providing the academic community with the ability to quickly navigate through a large expanse of equations to easily find the correct equation, at the proper level.

EQNS is designed to attempt to answer the age old question: "which equation is it again?" Education in the sciences is just as reliant on equations as it is concept driven. Formal proofs and mathematical representations are often essential to fully convince individuals of otherwise ungrounded conceptual claims.

At EQNS, we are striving to eliminate the hunt for and memorization of equations. We believe that it's hard enough to solve the equations and to correctly implement the formulas; there is no need to make them impossible to find as well. With this in mind, we have developed a website which is extremely easy to navigate. We let you, the user, narrow in on your equation by field, level, and branch. Additionally, we provide unrivaled clarity and conciseness. With links to practice problems and citations to papers, you can always rest assured that the listed equations are accurate and that you will know how they are implemented.

---
---
Our Team





Ilya Uts
CEO & Founder

Ilya graduated from Yale University with a degree in Astronomy & Physics (B.S.). He has found equations to play a central role in his high school and college education. Too often, though, Ilya would spend countless hours rummaging through old notes, and webpage upon webpage to either come up empty or to find equations that were only tangentially relevant to his course. Having always dreamt of an equation database that would significantly reduce the number of hours he would have to spend studying for exams and solving problem sets, Ilya decided to design EQNS in December of 2013. He is currently working as a software developer in the financial sector, while continuing to grow EQNS.


Ronen Kaganer
Head of Operations


Ronen graduated from Cornell University with a degree in Mathematics and Economics (B.A.). Since graduating, Ronen has held several roles in operations and strategy in the financial services industry. Having spent many hours in college flipping through textbooks and searching the internet for the right equation, Ronen believes in the value proposition of a comprehensive equation database. He is currently a graduate student in Cornell's Statistics program.

---
Copyright &copy 2013 - • EQNS